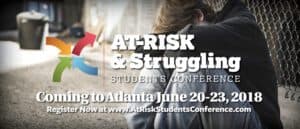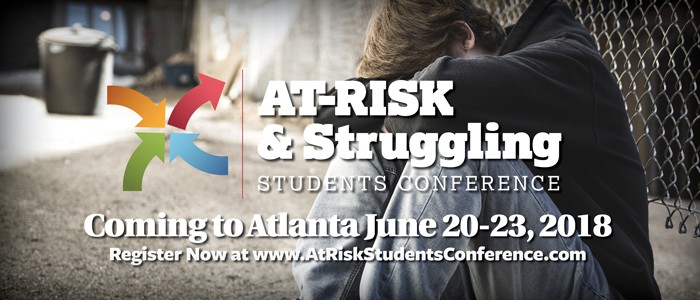 At-Risk & Struggling Students Keynoter Robert Jackson says students who drop out of school mentally in middle school end up dropping out literally by high school — and often find themselves in jail.
Watch Robert Jackson discuss the cycle that often happens to students who disengage in middle school.
Author of the No More Excuses curriculum, Robert will present a keynote session entitled Building Cultural Awareness & Effective Communication with Staff and Students in Atlanta. Additionally, he will present a breakout session entitled Strategies & Solutions for Educating Black/ Latino Males.
The At-Risk & Struggling Students Conference focuses on evidence-based programs and strategies that educators can use to prevent dropouts and to help students experience success in school. More than 1.2 million students in the United States and Canada drop out of high school each year (with the percentages skewed toward males, low-income and minority students). Millions more are considered at-risk because they exhibit ongoing disciplinary problems, impulsive behavior, truancy issues and have become frustrated or disengaged. The long-term cost of failing to engage these students is tremendous, since they are much less likely to transition successfully into adulthood and to achieve economic self-sufficiency. Join us in Atlanta to gain valuable insights and to explore practical ways to help this critical portion of your school's population.
INNOVATIVE SCHOOLS SUMMIT – ATLANTA: JUNE 20-23, 2018!
This event is part of the 2018 Innovative Schools Summit Atlanta. Attendees receive complimentary access to all Summit sessions on a space-available basis. The five Summit conferences include:
The 2018 Innovative Schools Summit Atlanta will be hosted by AccuTrain at the Renaissance Waverly Hotel, a AAA 4-Diamond hotel in the Galleria area of Atlanta, within walking distance of Suntrust Park, and convenient to Cumberland Mall and Vinings Jubilee. A limited number of rooms are available at a special conference room rate of $164/night. The name of the block is Innovative Schools Summit. To make your reservations, call 1-888-391-8724.