05dec11:30 am1:00 pmLive Webinar: "Dyslexia 101: Facts, Fiction and Fundamentals"
Event Information
Dyslexia is not a reflection of a student's intelligence — in fact it's defined as a gap between a student's ability and achievement. And, it's estimated that 1 in 5 kids has dyslexia and 80 to 90 percent of kids with learning disabilities have it. Sadly, according to the Yale Center for Dyslexia and Creativity, many students go undiagnosed and their struggles in school are attributed to intelligence, level of effort and environmental factors.
In this 90-minute webinar, Dr. Amy Thompson will share foundational background information on dyslexia including fascinating facts about how the brain is wired for reading. Participants will discover the many bits of fictional information that is often shared and will leave the webinar with that fiction transformed into facts. Finally, K-12 teachers in all subject areas will familiarize themselves with methods, strategies and interventions appropriate for students with dyslexia in the classroom.
Learning Objectives:
Dispel common myths or fiction about dyslexia
Gain a working knowledge of the brain science surrounding dyslexia.
Understand the science of reading.
Master new methods, strategies and/or interventions that can be used in any K-12 classroom
About the Presenter: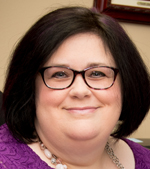 Dr. Thompson is an assistant professor at the University of Central Arkansas, with a focus on preparing literacy educators. Special areas of interest include literacy assessment and intervention, dyslexia and multisensory learning as well as supporting dyslexic students with media and technology. Amy earned her Masters in Reading Education form the University of Arkansas and a Ph.D. in Leadership Studies from the University of Central Arkansas. She co-authored the book Leave Your Attitude at the Door and provided a chapter for Enabling Literacy and Empowering Learners: Using Digital Portfolios to Support Struggling Readers. She has presented on literacy and dyslexia at conferences around the country.
Purchase Order Registration
Time

(Thursday) 11:30 am - 1:00 pm